The Centre is an innovative training hub for construction employers that aims to:
• Enhance the development of a skilled workforce
• Create innovative training solutions
• Support employers to quickly hire and train new employees
• Provide a platform to improve health and safety within the workforce
• Improve outcomes and completion rates (of apprentices)
• Leverages economies of scale to deliver training at a lower cost
• Can be delivered remotely at an employer's location
116,200 ADDITIONAL WORKERS
TO KEEP PACE WITH EXPECTED DEMAND*
Despite the recent impact of the COVID-19 pandemic on the economy, the construction industry still needs additional construction workers for the next 10 years.
* From the BuildForce Canada CONSTRUCTION & MAINTENANCE LOOKING FORWARD REPORT: ONTARIO, 2021-2030
Construction Labour Force Outlook
In the next 10 years, the construction sector will need to hire, train, and retain more than 116,200 additional workers to keep pace with expected demand growth.
92,500 workers (21% of the current labour force) are projected to retire.
84,800 new entrants (locally) aged 30 are projected to enter construction.
A projected gap of about 31,400 construction workers needed to meet market demands.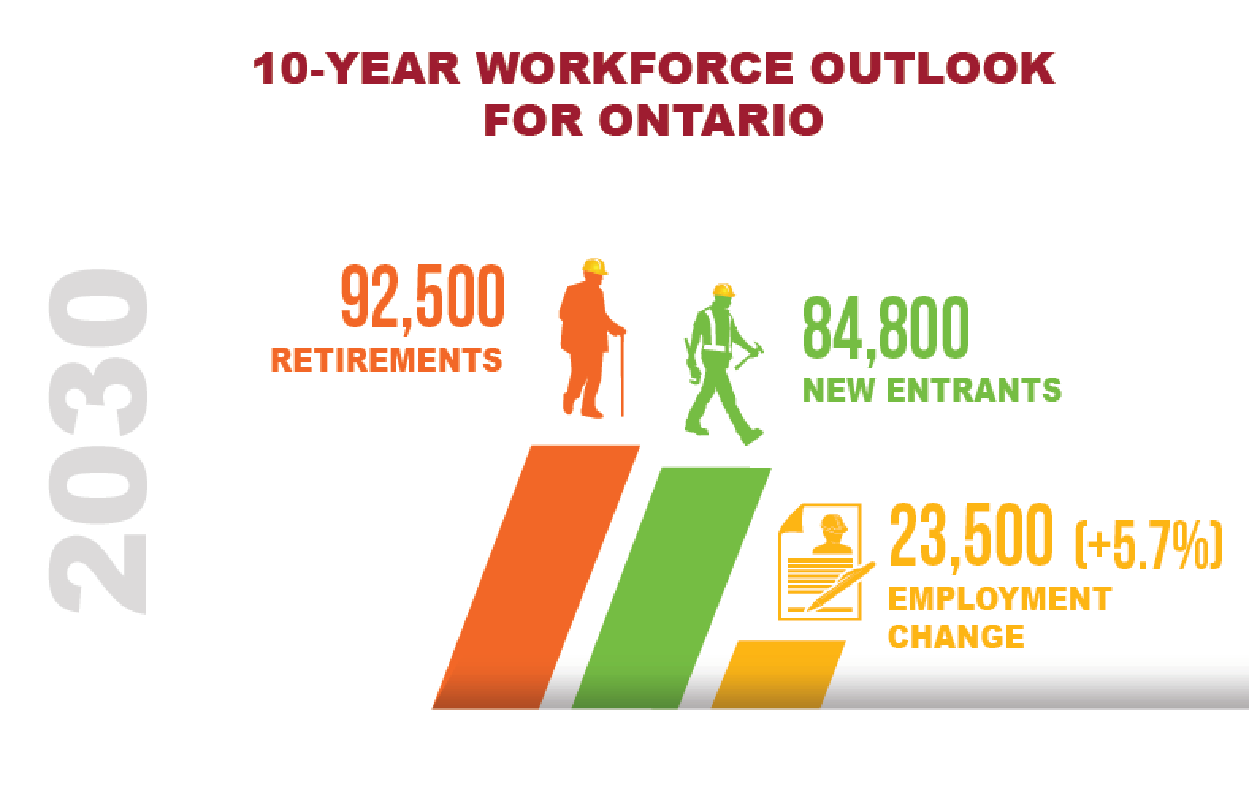 Impacts of COVID-19 
Statistics Canada's Labour Force Survey data suggest that COVID may have resulted in a contraction of the available labour force due to workers (temporarily) exiting the workforce, driven by changing household responsibilities, limitations on travel, or health and safety concerns. 
It is anticipated that most workers will re-enter the labour force as the economy fully reopens. Construction is a sector in need of workers displaced from other sectors. 
Retiring Workforce
Over the next 10 years, industry will need to replace an estimated 92,500 workers that are expected to retire, or 21% of the current labour force. 
Replacing workers exiting the industry will be a key driver of hiring and training needs over the coming decade. Considering projected growth, industry will likely need to hire, train, and retain
116,200 additional workers across the scenario period to 2030.
Rising project demands only form part of the recruitment challenge for Ontario over the coming decade. 
FROM BUILDFORCE CANADA
Based on historical trends, Ontario's construction industry is expected to draw an estimated 84,770 first-time new entrants under the age of 30 from the local population into the industry over the next decade. However, across the same period, the pace of retirements exceeds the number of new entrants to construction, resulting in a gap that will need to be filled by enhanced local recruitment and training, including the recruitment of new immigrants and those already in Canada, as well as promoting career opportunities to workers with comparable skill sets who have been displaced from other industries, and, as required when necessary to meet peak demands, pulling in construction workers from neighbouring provinces. 
This is what Construction Ontario Training and Resource Center aims to do.